We love Studs & Pearls, the new book by acclaimed fashion writer and DIY enthusiast Kirsten Nunez, and were super excited to chat to her. Regular readers of Reloved Magazine may have seen some of Kirsten's projects in our recent issue, or perhaps you've read her popular online blog? Either way, she's a fab new writer with some innovative ideas for upcycled fashion…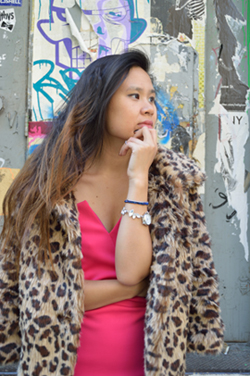 Have you always been interested in DIY fashion?

In a way, yes. Some of my earliest childhood memories revolve around making and creating things. When I was younger, my projects were typically things like sleeping bags for my dolls and pipe cleaner jewelry. I clearly remember simply being fascinated with the idea of creating something from nothing. During my teen years, I started taking on more "wearable" projects that could be incorporated into my everyday life. I began to lean towards fashion projects just because I loved the idea of being able to express yourself through them. By the time I finished college, DIY fashion became a big part of what defined me as a person. I do love all kinds of crafts, though.
What do you think is important about customising your own clothes?
There's an unmatched touch of personalization when it comes to customising your own clothes. It's not even about the actual physical items, and it's definitely not about the monetary value. Fashion already heavily represents a person, but DIY fashion is such a unique version of that. When you upcycle or make something, there will literally be no-one in the world that will create it in the same exact way. Even if they copied you, things like hand stitches will still be different. I think it's all a pretty amazing notion.
What is the upcycling scene like in New York?
It's growing by the day, and has been for many years. This area may be known for its high end glamour, but New Yorkers have always had that edgy creative prowess. This is especially true in the independent music and art scenes. In more recent light, however, the economy has been influencing individuals to pay closer attention to what they spend their money on. The concepts of upcycling, recycling, and DIY encourage people to look at what they already have – and to use it wisely.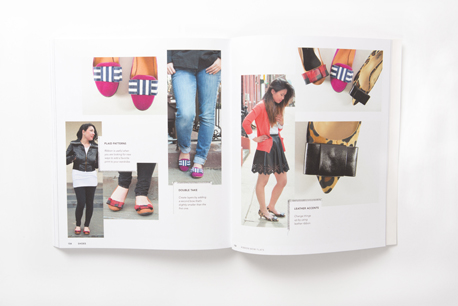 Any recommendations for UK upcyclers who are visiting the city?
The Garment District has so many amazing supply shops that will help you give a new breath of life to an existing garment or item. I would highly recommend visiting the larger stores like M&J Trimming and Mood Fabrics. However, you'll still be sure to score great finds in the smaller shops. Every single spot is worth a peek. If your heart skips a beat when you see rows and rows of chain in every finish…the Garment District is a must! I would also recommend taking a stroll around Fifth Avenue and checking out designer stores for inspiration. There will be a new idea around every corner. And of course, thrift stores such as Buffalo Exchange and Housing Works Thrift Shops will have those hidden gems.
How did your blog Studs and Pearls get transformed into a book?
Helen Rochester, a Fashion editor at Laurence King Publishing, reached out to me after about a year and a half of running the blog. I had created the blog simply because DIY is what I love to do, and by this point, I had received recognition on websites such as CNN Lifestyle and Yahoo. As luck would have it, Laurence King is located in the UK but she was going to be in New York for work the following month. Helen and I met up for coffee near Bryant Park, and discussed potential book concepts and the general DIY industry.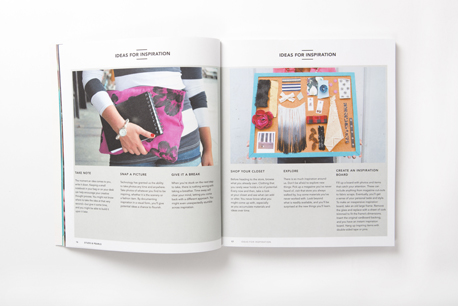 What's your favourite project from the book?
The Painted Floral Clutch is my top pick. It was inspired by brush embroidery, a technique used to decorate cakes and cookies with royal icing. The concept really proves how anything can serve as an inspiration. A runner up would be the Beaded Circle Necklace, made from beads wrapped around key chain rings. It shows how practical objects can hold potential.
Do you wear most of the ideas you come up with?
I do! This is because I'm a big advocate of staying true to yourself and to what defines you. Therefore, I won't create something that I wouldn't wear. Even if you're upcycling an existing item, transforming it into something that you would wear still makes it your own. I use this approach with everything.
What plans do you have for the future?
I'm striving to find my niche in the world of women's lifestyle media. I actually went to college and graduate school for Nutrition, and health is something I'll always care about. I think working in women's lifestyle will help me mesh both "sides" of my life. Not to mention, I love brainstorming creative ways to promote health. Whatever I end up doing, I'm still going to keep creating and sharing my ideas with the world.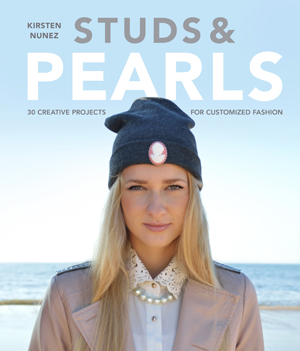 Studs and Pearls by Kirsten Nunez is published by Laurence King on 5th May, £14.95